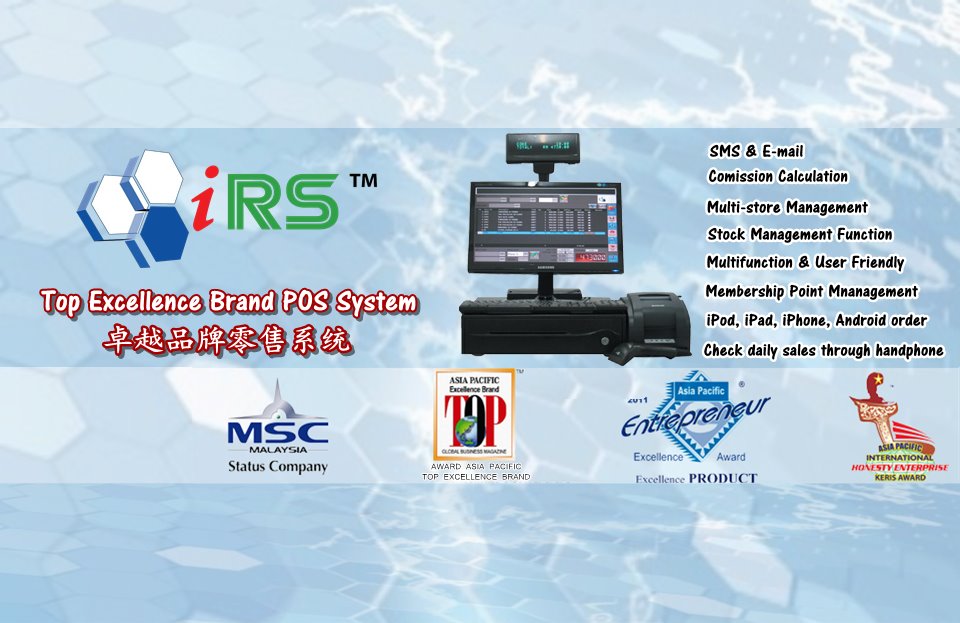 iRS point of sales(POS) developed by software development company in Malaysia which has been established since 2002. We have developed and delivered some of the most effective and easy-to-use solutions to our clients from various sectors. We specialize in business IT solutions such as the Retail Point Of Sales System and F&B System.
IRS Software Sdn. Bhd. has the most diversified client base due to its great features, effectiveness, easy-to-use yet cost effective softwares. Our customer range includes hardware stores, beauty salons, restaurants, cafes, pet shops, accessory shops, book stores and stationery stores, boutiques, laundries, organic shops and music schools, optical shops, souvenir shops, photograph shops, camera shops, bicycle and motor shops, tea houses, handphone shops, vegetable and fruit stores, florists, toy shops, etc.
iRS POS System
RM 6499**
 ** Limited time and while stock last
Package include :
Thermal Receipt Printer
Brand NEW complete set of PC
Cash Drawer
iRS POS FnB or Retail License
Stock Control
Remote Support for 1 calendar year
Menu Configuration
NO MONTHLY FEE !!
Call us for a demo account.